On April 26, 2018, the first this year's D2000 Information Workshop was held at Ipesoft's premises.
The program was divided into the following sections:
Changes in installation process of D2000 V11.2
Installation and use of the D2000 TCL
Installation and use of the D2000 SmartWeb
Access to WEB applications from the D2000 environment, D2 cloud in practice
The workshop was attended by representatives of several companies, welcomed by Boris Čonto, the design architect for D2000 section.  In the introduction, he summed up why the D2000 supports 2 different technologies for the Web and briefly described the fundamental differences between the D2000 TCL and D2000 SmartWeb technologies. Then he gave the floor to Janka Motyčáková. Janka first described the changes in the installation process of D2000 in the 11.2 version and then went through the practical part from the D2000 installation to using the D2000 TCL.
        After a break, the participants started exploring D2000 SmartWeb and D2 Cloud. The presentation as well as the practical part was led by Marek Gregor.
During the practical exercises, our other colleagues from Ipesoft helped the workshop participants, thus creating space for discussion on other topics from the D2000 environment. We were very pleased with the proactive approach of participants during the practical exercises. This interest proved that it is important to carry on organizing workshops for our D2000 partners and customers in the future.
We also attach a few photos from WorkShop I. in our company premises.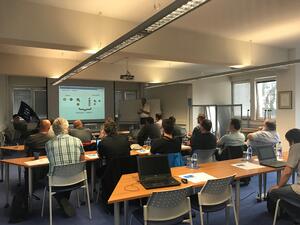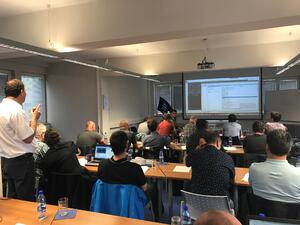 As we have already mentioned, similar meetings of active D2000 users will take place several times a year. And as announced at the WorkShop I, the following D2000 Information WorkShop II will be held before summer holidays on the 21st of June 2018.
The main theme of WorkShop II will be the D2000 and Data Archiving.
See you soon